eTECT - Security Services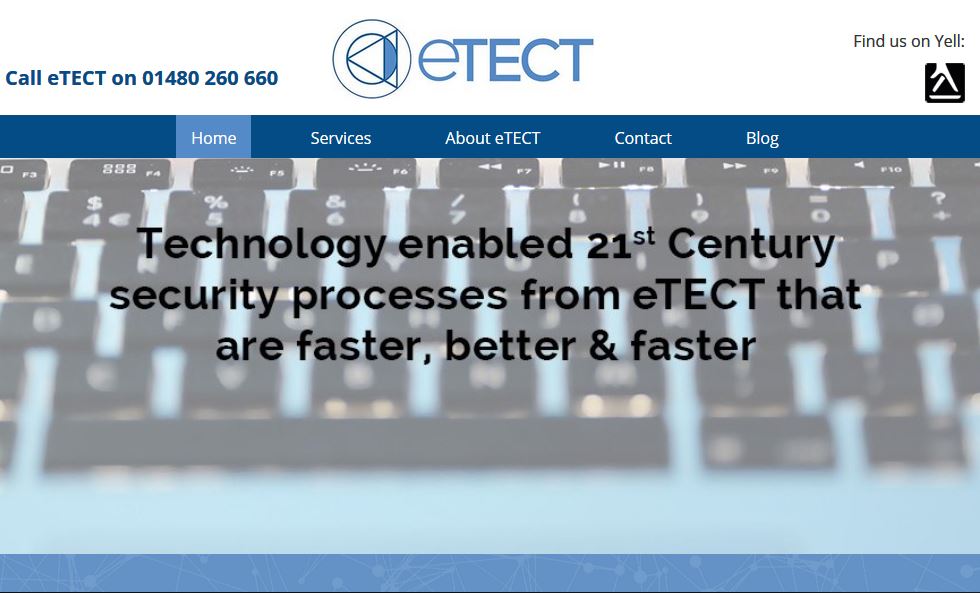 Website Under Construction
Security Services that are faster, better and cheaper
eTECT are a security services company providing survey, design, installation and maintenance packages. Technological advances in the security industry mean that a 21st century solution for your business will be faster, better and cheaper than anything previously.
As an independent company in the security sector we can enhance existing systems or design bespoke solutions to install whatever you need. Committed to deploying the optimum security system based on your requirements, our survey will enable us to do this in 3 simple steps.
Site survey – conducted by our security advisor and covers every aspect to understand your business, security needs and current set-up
Bespoke design – to incorporate as much of your existing system as possible and close any gaps
Solution installation – based on the design specifications
The survey is conducted by our security advisor, Keith Neilson, who has a Masters in Security Management and is only one of a few qualified in this country to do this type of work. He has over 25 years experience in the industry and was the Security Perimeter Manager for London Olympics 2012.
Our approach is not limited to CCTV but looks at each element relating to your security. We guarantee that the cost of our solution will always be lower than the overall cost of your problem.
Stop press
On 25th May 2018 GDPR or General Data Protection Regulations come into force giving greater accountability to those companies who store, capture or process customer data.
The ICO (Information Commissioners Office) have produced guidance on the storage and usage of CCTV data. As part of our survey, eTECT can ensure your systems are compliant with these guidelines.
Call 01480 260 660 / 07557 910125 or email keith@etect.org to arrange a no obligation survey.
What people say
"Keith Neilson designed the comprehensive CCTV system for the Bolton Industrial Estate Partnership. This involved connecting the data from 8 geographically different industrial estates into a single receiving centre; placement, specification and project management of 60 street CCTV cameras; integration of additional private systems and the maintenance and renewal contract. The dramatic 90% fall in crime is testament to the excellent design of the system."
Rossendale Borough Council


"Keith conducted a full survey and review of our college security, which astutely pointed out weaknesses in our security and also advised us on other positive uses of CCTV.
It also included very helpful recommendations to improve our procedures, not related to security, which he noted during the survey. The resultant system not only saved the school money in reduced crime and vandalism it assisted massively in managing movement around our premises vastly improving pupil and staff safety."
Shevington High School
Contact Details
eTECT
31-31A St Neots Road,
Eaton Ford,
St Neots,
Cambridgeshire,
PE19 7BA

Tel: 01480 260 660
Mobile: 07557 910125
eMail: info@etect.org / keith@etect.org
Installation Design IP Savvy FREE Advise Maintenance Consultancy
Find a Security Professional